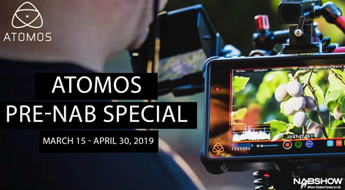 Atomos Pre-NAB Promotion
Promotion starts from the 15th of March till the 30th of April.

Shogun Inferno :
Promotion price HK$8,600
(original HK$11,050)

Ninja Inferno :
Promotion price HK$6,900
(original HK$8,500)

Broncolor Spring Promotion 2019
Buy Move Outdoor Kit 1 and Para 88 / 133, get a FREE MobiLED lamphead and Move lithium-ion battery
Hasselblad X1D firmware update ver 1.22 available now
The 1.22.0 firmware is a service and feature release for the X1D-50c camera that adds support for the new lenses XCD 65, XCD 80 and XCD 135 including X Converter 1,7. It also adds some new functionality and solves a few bugs.
Firmware 0.5.33 for Hasselblad XCD Lenses
The 0.5.33 firmware is a maintenance release for the XCD 65mm, XCD 80mm and XCD 135mm Lenses. It is recommended for all XCD Lenses.
World First: Atomos unveils Apple ProRes RAW recording solution compatible with Nikon Z 7 and Z 6 full-frame mirrorless cameras at CES 2019
2019 is all about taking content creation to the next level. Video makers everywhere are looking to add that elusive cinematic quality to their work, whether that be on social media, YouTube or on TV. To answer those needs, Atomos today unveils the next revolution in digital imaging - RAW video output and capture from Nikon's full frame mirrorless cameras. The Nikon Z 7 and Z 6 full-frame mirrorless cameras will work together with the Atomos Ninja V 4K HDR monitor/recorder to record Apple's ProRes RAW video format.
The upcoming feature will be on display in the Nikon booth (#14006) during the CES® 2019 show.
Hasselblad Phocus 3.4 is available now
Read more...
ZEISS CP.3 XD monitor bundle
From November 1st to December 31st, 2018, buy a 5-set of CP.3 XD lenses and get a voucher for a FREE Transvideo StarliteHD-m monitor.
The ZEISS Batis 2/40 CF bridges the gap in the ZEISS Batis family lineup.
First full-frame camera from ZEISS : ZEISS ZX1
NEW Broncolor LED F160 lamphead